COLLABORATIONS, COMMISSIONS & PORTFOLIO
Illustrations for Robin Sprong Wallpaper. See the full range on robinsprong.com.
All in situ images provided are by Robin Sprong Wallpaper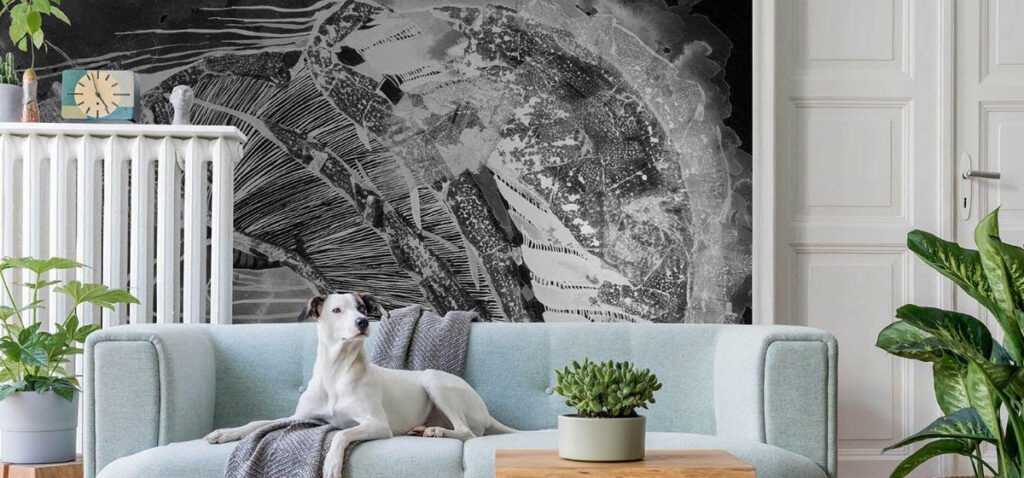 Work in progress for River, Rocks and Vegetation – Caitlin Mkhasibe x Robin Sprong
Holding Space for Creativity is a remote, collaborative artwork between artists, Elize de Beer of Bookward Bound Bindery and Caitlin Mkhasibe. This work is an amalgamation of Elize's book binding knowledge and Caitlin's digital illustration of their shared interests and the surrounding natural landscape where they studied fine art together in Cape Town. The cover illustration depicts elements of the sea, fynbos, nature, space cats and tattoos (rendered through the overall style of the illustration). The cover was screen-printed with gold ink by Roxy Kaczmarek on 300gsm navy blue Malmero paper. The inner book holds 128 un-lined, 120gsm off-white Munken Pure pages, permitting flexibility in purpose to be used as either an artist's sketch book, for writing or both. The final books are beautifully handbound with Coptic Stitching by Elize.
Not only has this artwork been a celebration of friendship, independent creativity and an emphasis on fun over perfunctory art admin; it has been a catalyst for discussions on mental health, vulnerability, inner expansion through mutual respect and an excitement towards forming a shared definition of a healthy, creative experience.
The final books are the reward and the process served as a reminder that art is necessary for our well-being.
Illustrations for South African literature magazine,  Prufrock.
Summer issue, 2018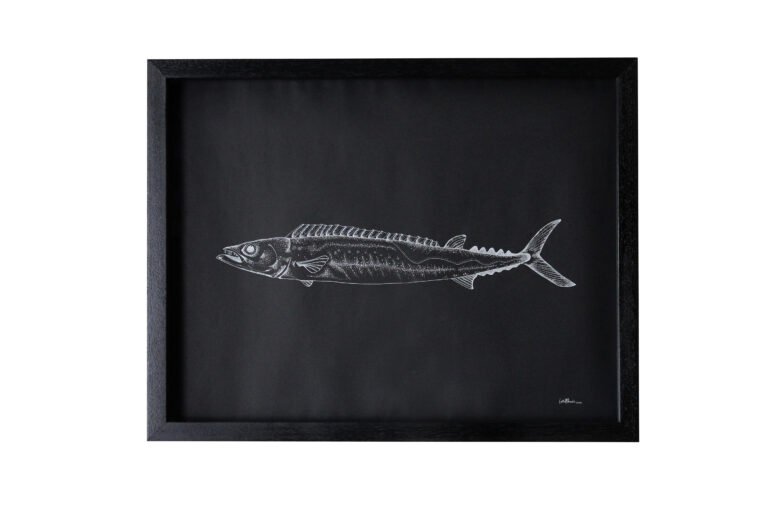 Little Wing by S.F Ratcliffe
Described as "a noir fairy tale for grown-ups" by author, Simon Ratcliffe, Little Wing placed as 1 of 5 finalists in Omnidawn Publishing's Fabulist Fiction contest. Collaborative illustration with artist, helo samo.
SELECTED ARTWORK PORTFOLIO
Drum Moon 1 & 2, were created using ink and acrylic on two old, Remo drumheads that I played on. I have been playing on a third-hand, typical, five-piece drum kit since I was 14 years old and find my artworks mimic the circular shape of the drums. I also use found objects as additional percussive elements. I play in an audio-visual ensemble called, Morning Pages. This piece serves as a fusion of my interests in art and experimental, improvised music.
Fire is crucial in the preservation of fynbos and in the absence of it, large parts of the fynbos ecosystem would slowly die and be substituted by alien species. The smoke on glass element of the artworks represent the dependence germination and the healthy growth fynbos have on controlled and well managed fire. In order to view the work, you can only see it by a window or a light source since it is transparent on both sides. This signifies another source of heat that triggers growth – the sun and the process of photosynthesis.
​
Resource: Esler, K.J, Pierce S. M & de Villiers C. (eds), 2014. Fynbos: Ecology and Management. 1stedition. South Africa: Briza Publications, pp. 45 – 50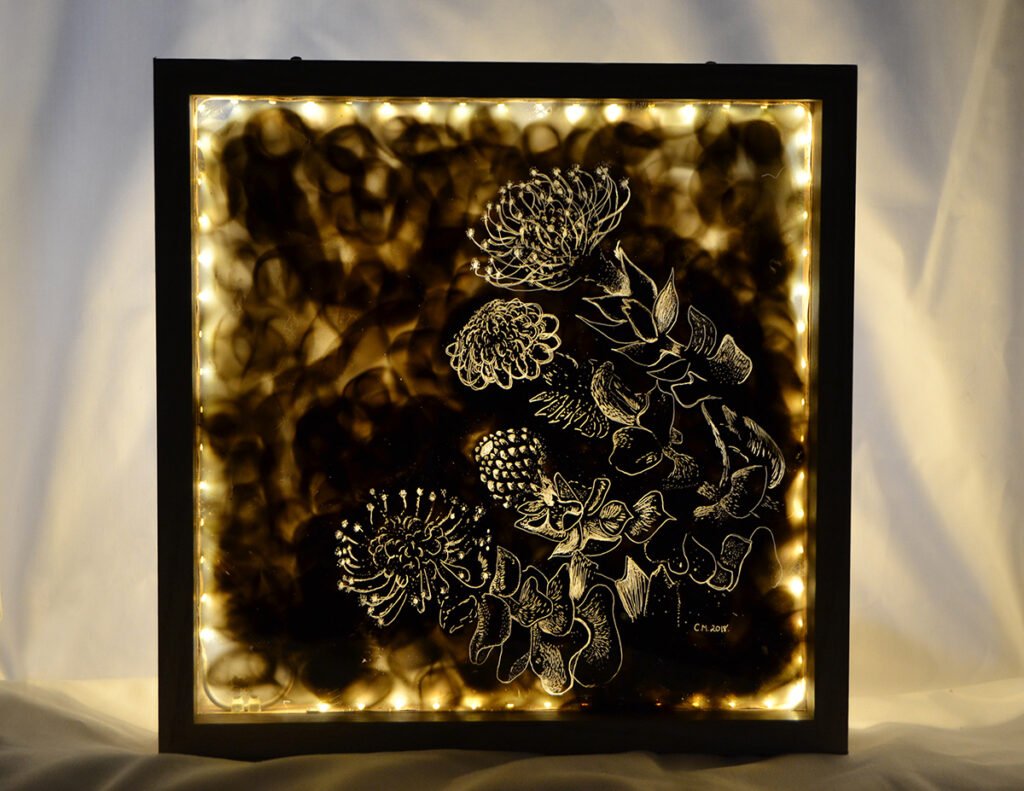 The Pincushion ('myrmercochorus' seed) produces seeds with a sort of flesh covering (called 'elaisomes') which are attractive to ants. The seeds are then dispersed by ants and are taken into their nests where they consume the elaisomes to reveal a smooth, hard seed. The ant nest has more nutrients than regular soil and the heat and smoke from the fire and drastic soil temperature changes between day and night stimulate the seeds to germinate. Fires in late summer or early autumn are best for myrmecochorus seeds as they need great heat for the germination process to happen.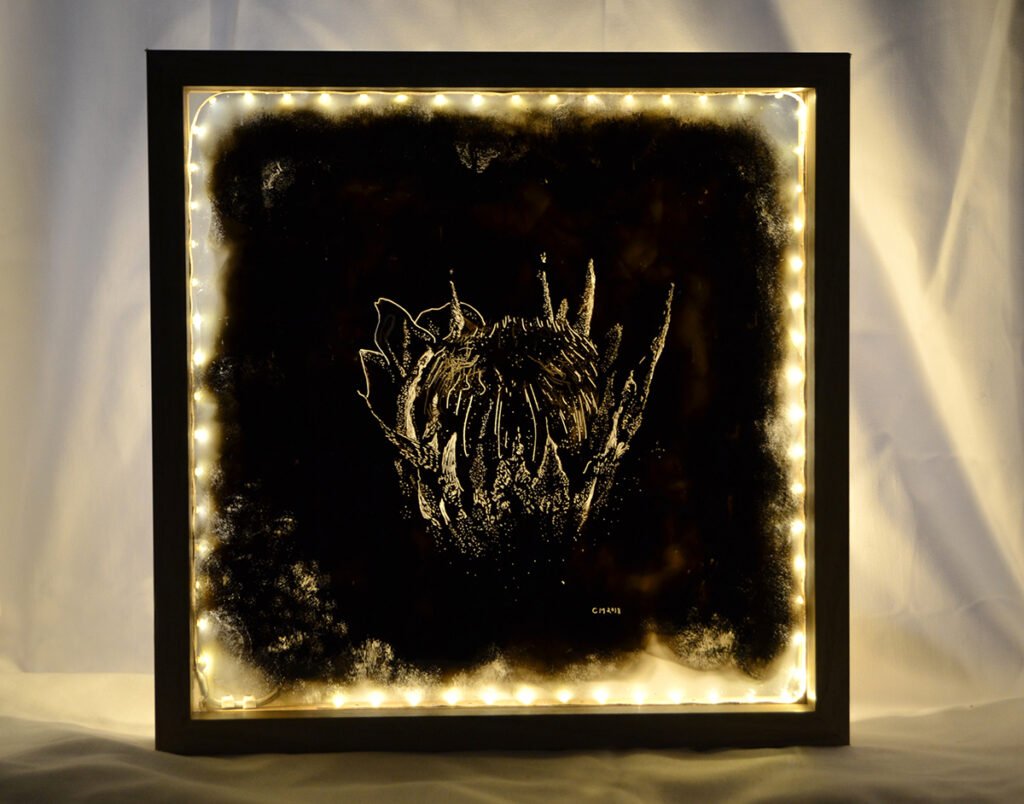 ​Before a fire, the King Protea ('serotinous' seed) produces seeds and retains them during that fire. The plant dies but the seeds are spread by wind and only germinate in the first winter after a fire. The seeds need a short amount of time exposed to the environment after fires occur in either late summer or early autumn, otherwise they dry out or are eaten by rodents. This happens when the time between distributed seeds and winter is vast – as would be in the instance after a spring fire.
... And then there was a Subterraneous Hum
The exhibition explored how noise pollution affected marine mammals' ability to echolocate due to ship engines, sonar, seismic blasts for mining and natural sounds, such as earthquakes. Whales have been known to beach themselves because of the amount of noise experienced because noise pollution makes it difficult for them to echolocate their migratory paths, food or each other. The series' monochromatic visual style emulates spectrograms and sonar. This series was part of an interactive sound installation where the viewer could sing to an imagined whale and it would sing back.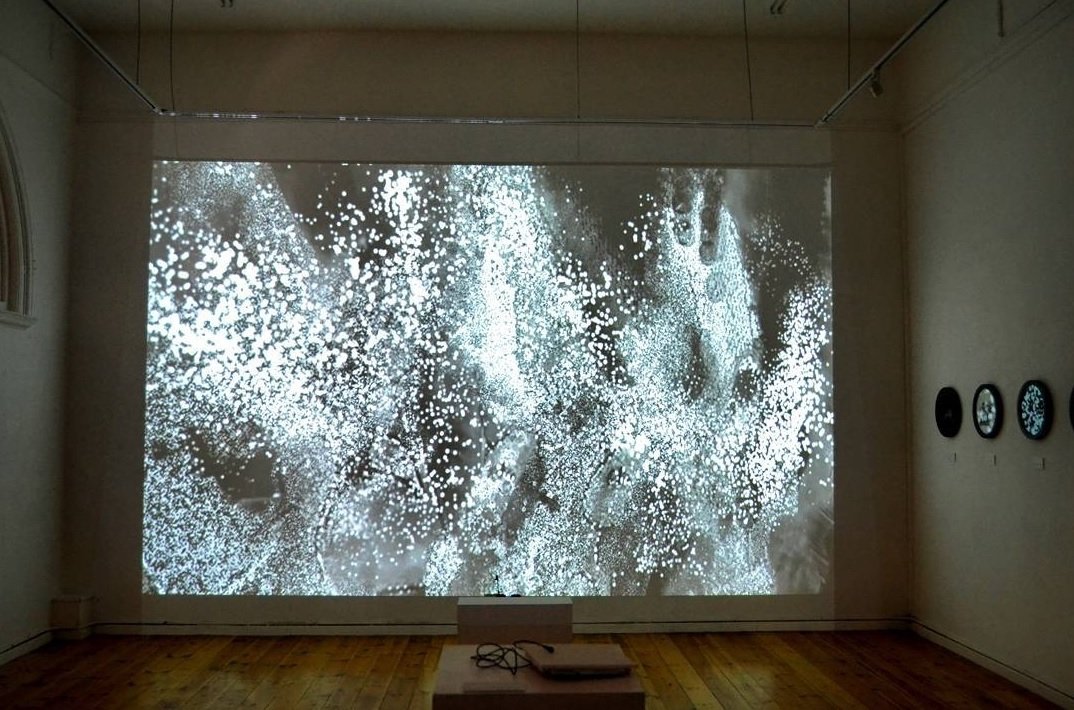 I used found medical illustrations of whale bones before editing them to look similar to black and white spectrographs. Whales feel sound through a membrane in their lower jawbone. I chose to use spine bones because that is what usually stands out the most for me at museums. This projection was displayed at my final exam exhibition at Michaelis (School of Fine Art in Cape Town). The projection is in front of the interactive sound piece where the viewer could sing to a whale and it would sing back. Special thanks to helo samo, Matthew Jones and Moeneeb Dalwai.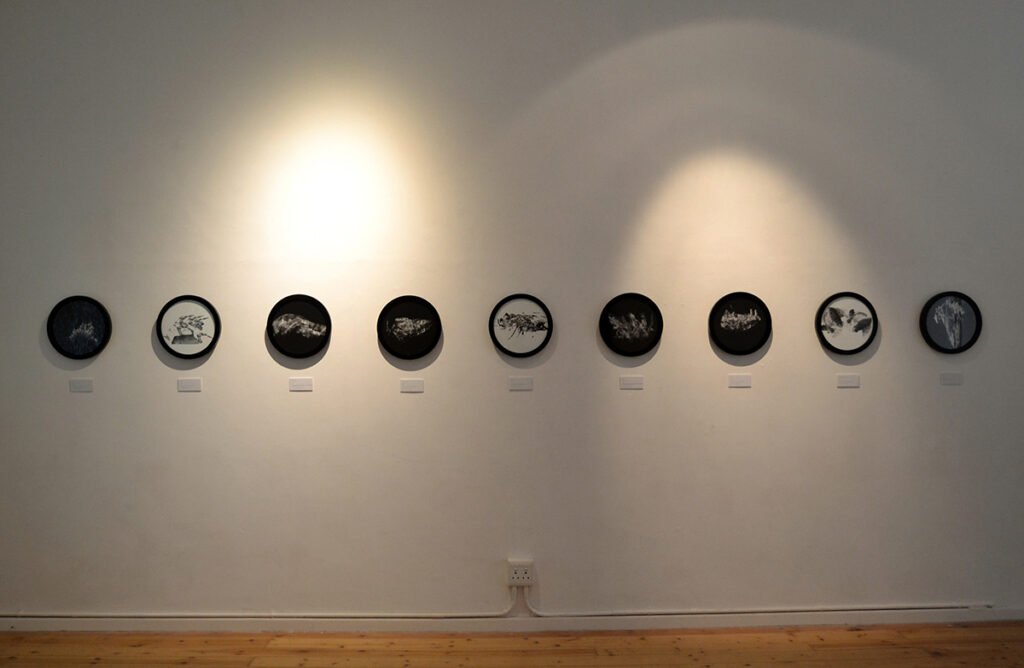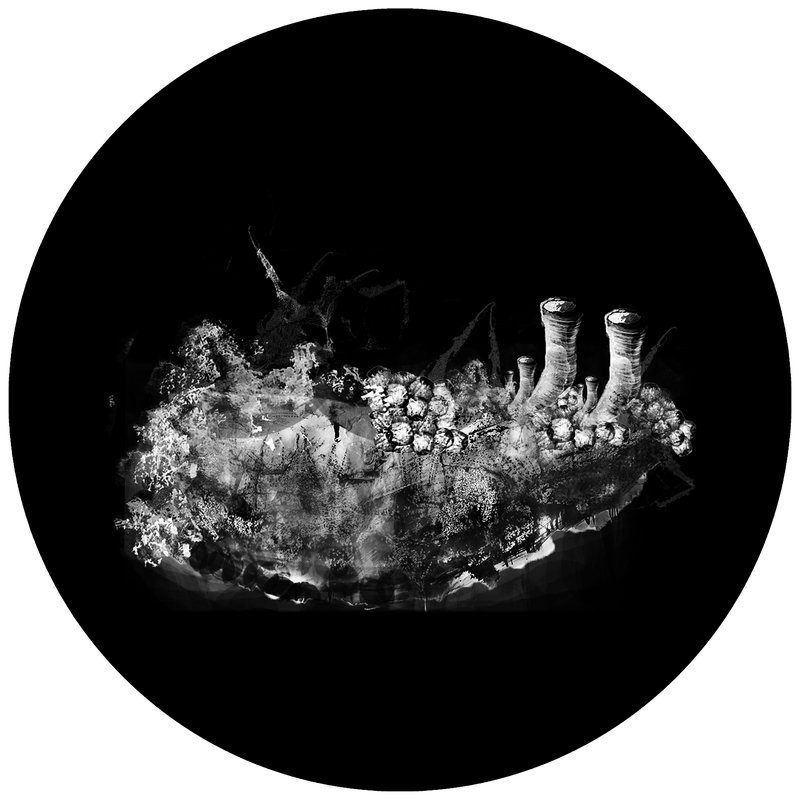 Lowest Hearing Frequency Range
This artwork used cymatics technique to display the lowest frequency hearing range of various animals. I placed water within a dish over a sub-woofer and allowed the vibrations to transition 10Hz – 100Hz, then 100Hz – 10Hz. The representation of the different animals' hearing abilities alerts us to unnoticed, organic and delicate modes of communication other than speaking a language or utilizing the internet. This mode is translated to our physical understanding of it: light, visual texture and vibration – making the invisible visible and hopefully, more appreciated.