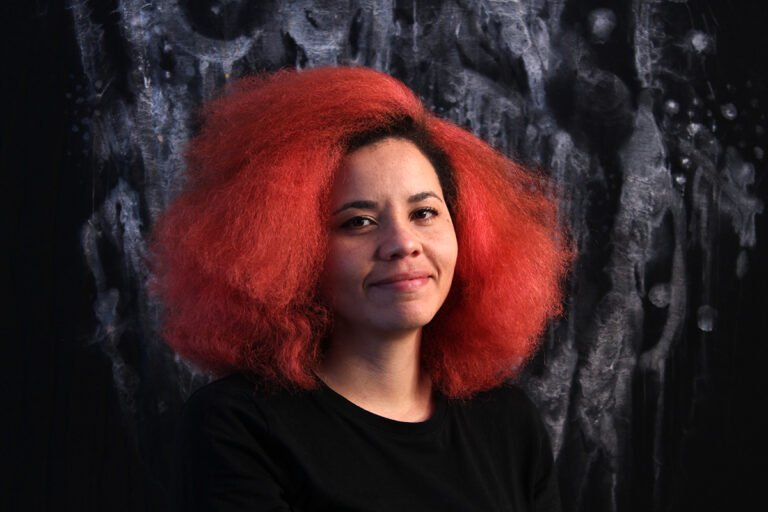 UNABRDIGED ARTIST BIOGRAPHY
(b. 1993 in Johannesburg) In 2015 Mkhasibe completed her BAFA at the Michaelis School of Fine Art at the University of Cape Town. Mkhasibe majored in New Media, focusing on sound and visual projection installations. She is a Cape Town based, multi-media artist and drummer (Morning Pages), who uses abstract mark-making to mimic sound and texture found in nature. Her artworks discuss political ecology and our destructive relationship to outer space. When Mkhasibe is not creating original artworks, illustrative commissions or collaborations, she does vegan hand-painted art wear on ethically sourced clothes or vegan hand-poke tattoos.
Since 2016 she has had artworks available through Unsung Art (Cape Town), an online store for affordable art from South Africa. Since 2013, Mkhasibe has written about and exhibited her art through Emergent Art Space, a non-profit platform based in San Francisco, California. In 2022, Mkhasibe became a board member of the International Association for Synaesthetes, Artists and Scientists (IASAS), a global non-profit organization that helps raise awareness for the cross-sensory experience of synesthesia.
In 2021, Mkhasibe participated in Boundless Space…the Possibilities of Burning Man, auction at Sotheby's in New York (co-produced by David Korins) and the Amref Health Africa Artball, curated by Atim Anette Oton of Calabar Gallery, Harlem, New York. Earlier that year, Mkhasibe also participated Call to Action, an Instagram auction by Art for Action in support of the Domino Foundation in aid of civil unrest relief. Mkhasibe exhibited in Synesthesia in Africa: Discovery, Awareness, Research and Outreach, a virtual symposium and group exhibition of international artists and designers, hosted by the Synesthesia Society of Africa (SSOA). The symposium was supported by the University of Concordia in Canada and the International Association of Synaesthetes, Artists and Scientists.
Mkhasibe collaborated remotely with printmaker and bookbinder, Elize de Beer of Ireland-based Bookward Bound Bindery, on an limited edition artwork titled, Holding Space for Creativity. The artwork consists of an illustrated cover and hand-painted spine guards by Mkhasibe and de Beer handbound the 128 unlined, Munken Pure pages and cover with a three thread coptic stitching.
In 2020, Mkhasibe collaborated with award-winning, environmentally friendly, bespoke wallpaper studio, Robin Sprong Wallpapers, to create her artist series and fine art prints available from robinsprong.com, with global printing and installation agents.
In February 2020, Mkhasibe performed under the Morning Pages ensemble and did a full set and collaboration with dance company, Darkroom Contemporary, at Katharine Meeding's solo exhibition, Short-Lived in Woodstock, Cape Town. In January, she exhibited in the Summer Sale group exhibition at Rust-en-Vrede gallery in Durbanville, Western Cape. Later that year, because of the pandemic, Fan Con Comic Con was held online and Mkhasibe would have been part of the Artist Alley representation. Comic Con Cape Town was forwarded from 2020 to 2021, where she would have also exhibited in the Artist Alley.
In 2019, in October, Mkhasibe was a guest artist as part of Eastside Studios Open Studio group exhibition in Saltriver, Cape Town. In September, she participated in Open Book Festival: Comics Fest in Cape Town and participated in the group show Botanica II, curated by Adele van Heerden, held at Art B. Gallery in Belleville, Western Cape in August.
In October 2018, Mkhasibe will exhibited in Polluted Postcards group show in Devenport Guildhall, Plymouth, England. In September, Mkhasibe exhibited in three group shows: the MOA Spring Art Collective at the Julie Miller Gallery in Johannesburg, South Africa, the Last Image Show by Koko'TEN Studio|Gallery in Tanzania and Botanica – New Perspectives on Botanical Art by South African Women Artists at the Arts Association of Bellville (Art B. Gallery). Earlier in 2018, she created illustrations for Prufrock magazine's 14th issue, had her work featured on the cover of Omenana magazine and had her first mini solo exhibition represented by Unsung Art Gallery at the Waterway House in Cape Town. Mkhasibe also collaborated on a foyer installation, with artist helo samo, for Darkroom Contemporary's InC Double Bill at the Magnet Theatre, and participated in the group show, Com!cs Focus, at the Association for Visual Arts Gallery (AVA). She also performed, Dirge, as part of Morning Pages at the Theatre Arts Admin Collective and the Alexander Theatre.
In 2017, Mkhasibe showed artwork at and performed as part of Morning Pages in the group show Untrammelled at Gallery University Stellenbosch. She exhibited at that year's Open Book Festival: Comics Fest, held at Fugard Theatre.
Mkhasibe was one of the session drummers for, Untitled (with a sound of its own making), a solar powered, multi-channel loudspeaker system and audio as part of James Webb's two solo exhibitions, titled, Ecstatic Interference (2016) at Blank Projects in Cape Town and We Listen for the Future (2016), at the Yorkshire Sculpture Park in Leeds. That year, Mkhasibe also participated in Translations, a group exhibition held online on Emergent Art Space in 2015 and in 2016 at the Nandalal Bose Gallery in the Rabindranath Tagore Centre, Indian Council for Cultural Relations (ICCR) in India.
WRITING LINKS ON EMERGENT ART SPACE (US)