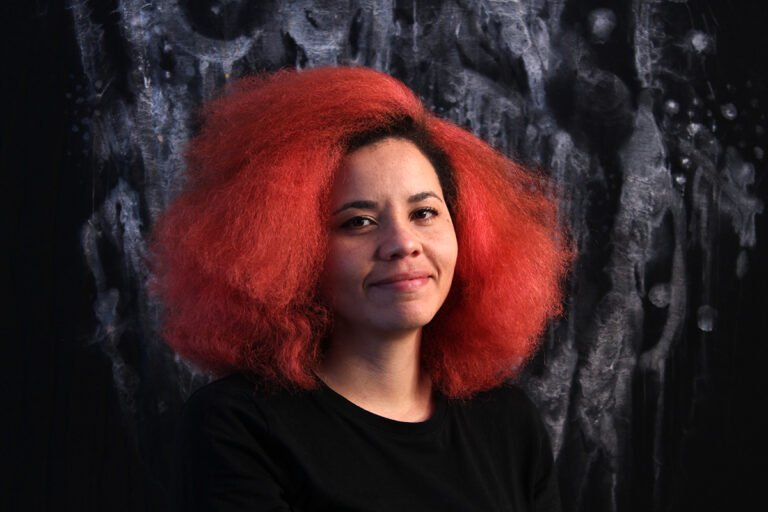 In 2015, Caitlin Mkhasibe (b. 1993, Johannesburg, South Africa) graduated with a Bachelors in Fine Art from the Michaelis School of Fine Art from the University of Cape Town, South Africa. Mkhasibe majored in New Media, focusing on sound and visual projection installations. She is a Cape Town based, multi-media artist and drummer (Morning Pages), who uses abstract mark-making to mimic sound and texture found in nature. Mkhasibe's artistic interests are in our inter-sectional relationship to ecology and outer space. Mkhasibe is on Unsung Art (Cape Town) and Emergent Art Space (San Francisco).
In 2021, Mkhasibe participated in Boundless Space…the Possibilities of Burning Man, auction at Sotheby's in New York and the Amref Health Africa Artball, curated by Atim Anette Oton of Calabar Gallery in Harlem, New York. Earlier that year, Mkhasibe also participated Call to Action, an Instagram auction by Art for Action in support of the Domino Foundation in aid of civil unrest relief. Mkhasibe exhibited in Synesthesia in Africa: Discovery, Awareness, Research and Outreach, a virtual symposium and group exhibition of international artists and designers, hosted by the Synesthesia Society of Africa. The symposium was supported by the University of Concordia in Canada and the International Association of Synaesthetes, Artists and Scientists, based in America.
Mkhasibe collaborated remotely with printmaker and bookbinder, Elize de Beer of Bookward Bound Bindery, on a limited edition artwork titled, Holding Space for Creativity. The artwork consists of an illustrated cover and hand-painted spine guards by Mkhasibe and de Beer handbound the 128 unlined, Munken Pure pages and cover with a three thread coptic stitching.
In 2020, Mkhasibe collaborated with award winning bespoke wallpaper studio, Robin Sprong Wallpapers.
When Mkhasibe is not creating original artworks, illustrative commissions or collaborations, she does vegan hand-painted art wear on ethically sourced clothes or private vegan hand-poke tattoos.